Want to Feel All Warm and Cosy? Try This Amazing DIY No Sew Fleece Blanket
No sew fleece blanket is among the simplest, easy beginner sewing projects. Not only is it uncomplicated to make, but it also gives off a super cosy vibe when it's ready. 
Isn't having a no sew fleece throw everyone's desire at some point? Think about evenings on the couch or summer feasting in the garden around the fire. Without a no sew tie blanket, none of these would have their unique aura.
As you research the internet for curious tips, you can even come across no sew fleece blanket for cats. If this amount of cuteness is not enough, then we give up!

Image source: Sdf Rf on Unsplash
How to make a no sew fleece blanket?
If you like fashion designs and fashion-related craft, you know what comes next. You guessed it, ingredients! 
Down below, we'll break down all the pieces needed to create a DIY no sew fleece blanket (sewing fabric, sewing supplies, etc.). Later, we'll get our hands-on experience in making a fleece blanket ourselves. 
But first, let's get to know other do-it-yourself projects. Take a look at these upcycling clothes and upcycling fashion blogs. DIY and upcycling in the fashion industry see fast growth these days. It's exciting to know that you make the world a better place by creating these ecologically friendly projects!

Image source: Pinterest
DIY no sew blanket making―accessories
For starters, let's go through this YouTube tutorial on making a no sew throw. Watch this ten-minute-long video presented by Cheryl on her The Sewing Room Channel. There is no easier and more pleasurable way to learn (read also learn to sew) than by observing others. So watch this step-by-step guide to make your new no sew fleece project from scratch. 
It's not that hard, is it? 

Image source: Instructables
Now, let's tackle all the puzzle pieces. 
We made the elegant table below with the help of Felt Magnet. It presents elements needed to conjure up an adorable no sew blanket at home: 
| | |
| --- | --- |
| tools | explanation |
| A sharp pair of scissors  | Scissors will work hard on this project. Don't be surprised when a once extremely sharp pair will become dull when your blanket is ready. Consider also using a rotary cutter. The cuts for this no sew fleece blanket don't need to be super pristine. |
| Yardstick | You'll notice that one cannot do everything without taking measurements. Implementing cute ideas doesn't exclude following formal (and sometimes dull) rules.    |
| A 4″X4″ piece of paper | Here comes one of many sewing hacks! Remember this one also for later. A piece of paper makes cutting the first corner of the no sew fleece baby blanket much more manageable. |
| Flannel fabric | The size of the flannel fabric depends on how big you want your blanket. Another thing to consider is whether you want it to be different on each side, which is a very fancy option.  |
| Cutting surface | It's not necessary. Yet, think about the well-being of your back and try not to do it on the floor.  |
How much fleece fabric do you need to create one piece?
For no sew baby blanket, you will need 1 yard of each fabric (2 in total).  

For an adult-sized blanket, you'll need 2 yards (4 in total).
It looks promising to create a project with no needles and threads, doesn't it? (Take a look at sewing threads types and tips in case your sewing path changes)
Read also how to sew and how to make a no sew face mask. 
How about updating your wardrobe or creating valuable items from scratch without sewing? Check, for example, these pages that offer free DIY guides and instructions:

Image source: Style Motivation
No sew blanket instructions
So here we are, equipped with all the stuff we need for making a DIY baby blanket no sew. Are you ready to go?
On the SpotlightStores, we came across this step-by-step guide through no sew fleece blanket instructions. We enriched it with several tips from Felt Magnet, and here we are, ready and happy to start this adventure. Take a look:
Choose two coordinating pieces of fleece and cut them to the size you need for your project.

Lay them with the wrong sides together.

You want both the right sides showing on both sides of your blanket. 

Take your yardstick or any straight edge and cut off any ends, so they are the same size. Trim edges to even them up.

Don't skip this step even if it seems redundant. Otherwise, an adult blanket may end up as a kid-sized one when you mess too much with cutting. Use:
clothespin, 

paper clips, 

pins, or 

anything to keep the separate pieces of fleece together and straight;

Image source: Tania Melnyczuk on Unsplash 
Cut out a ten centimetre square (four x four inches) from one corner of your blanket. What is it for? This intervention will:
prevent bunching in the corners,

make it look tidier, and 

make it easier to tie;

Image source: A Girl And A Glue Gun
If you don't have a piece of paper, measure the square with the yardstick and lightly draw on the square. 
Use the square you cut as your template for cutting out the remaining three corners. We're almost in the middle of the "how to make a no sew blanket" guide, so keep reading. 

Begin cutting out the uniform slits. They will resemble a fringe. Cut the slits 4-inches long into the fabric. Slits need to be long enough to tie the knots on them. Continue along all four sides of your blanket. This way, you'll create a fringed no sew fleece blanket edging.

Tip: Cut the slits at one inch even intervals. To make sure that spacing is correct, use a yardstick or a tape measure. It will look funny and unprofessional if some are an inch apart and others two. 

Image source: Sharon McCutcheon on Unsplash
Begin tying each of the two adjacent stripes (from two layers) together. How to tie a no sew blanket? There are many ways to review. You want a nice firm, but not tight, knot. Continue to make these no sew blanket knots the entire way around the blanket.
In the table below, you'll read about a few cool and innovative methods to tie knots. We saw some of them from Sewing Machine Buffs. 
| | |
| --- | --- |
| A type of knot | Description |
| Classic no-sew tie blanket | The two blankets are lined on top of each other. Next, tie edges (without the help of knots), creating a frilly and pleasant fringe effect. |
| A regular tying method | It's the most popular way. Cut the 4-inches long slits and tie the knots on them, joining two blankets together.   |
| The loop through method | On Adventures Of A DIY Mum, you'll learn how to join two layers of a fleece blanket. Perform it not by making knots but instead by cutting tiny holes inside the stripes. |
| A double knot | A standard one, known to all. |
| A "square knot"  | It gives off a fun and whimsical vibe. |
| Hand-knitted blanket  | Buy some good-quality, soft and fluffy yarn. Then, take a pair of knitting needles and give life to your new, gorgeous blanket. Relax and accept a few blemishes or faults; cute and cosy is all you want, and no one asks for perfection! |
| Overhand knots | It looks the most professional and tidy.  |
| Edge tie blanket with flannel or yarn | Improvise the fleece blanket with a piece of aesthetic flannel or yarn. You'll create an adorable fringe effect in no time. A perfect item for home decor! |
| Fleece blanket with braided edge | Make a two-layer fleece blanket with braided edges. Once you have cut the edges, loop them and then braid the two pieces together.  |
| Fun cut edges | This one is on you, so get your creative juices flowing and show us what's your idea! |
Any extra tips?
With the edge tie blanket with flannel or yarn, use these no sew blanket ideas to add a rustic charm.

A fleece blanket with a braided edge is a delightful technique to try out. Consider it if you love chic and aesthetic ideas and homey design at once.

When it comes to hand-knitted blankets, look at these beautiful tutorials on

Lauren Conrad

and

She's Crafty And She Knows It

. 

Image source: A Girl And A Glue Gun
Check this YouTube video to get to know four methods on how to tie a no sew blanket.
Now, as we know how to tie a knot, what's next? 
Pull the knots down a bit from the top of the fringe to keep its look clean, crisp line. It will help you avoid tugging, bunching and a misshapen blanket.

Grab two corners of your blanket and stretch it out to get it flat and in the right shape.

Your blanket is ready!

Image source: Felt Magnet
It was easy as pie, wasn't it? Now, stay with us because there is more. 
For other nicely put instructions, take a glance at Instructables or The Self Sufficient Home Acre. On these pages, each step is explained in detail. Thus, you can be sure to be well-guided. 
After you're done with this project, maybe it's worth giving a try to actual sewing activity? 
We talked a lot about no sew fleece blankets made of two pieces of fabric. But what if we wish to do something fancy with sewing involved or with the use of a single piece of fleece? Read about two ways to make a single layer fleece blanket on The Linnus Connection. 
With the best sewing tips and tricks that we provide, no one will struggle to take off. See also these 10 reasons to start sewing clothes if you're not convinced yet. 

Image source: Instructables
Another idea worth considering is reaching out to Super Label Store for:
There are different types of woven labels so that everyone will find something for themselves. 
The question worth asking is: What is so unique about this brand?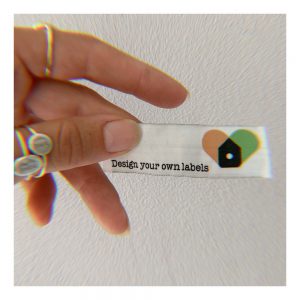 For starters, the brand's versatility. This labels-focused company is open to working with everyone―from individual home-based clients to fashion designers to big companies. Everyone can customise their:
textile, 

sheets,

clothing, 

towels, 

accessories with custom (clothing) labels and tags;
Secondly, it presents all the qualities that everyone looks for when making up one's label. 
Easy to use configurators help you design and order in minutes.

Premium quality from start to finish.

Custom (100%)―your work is 100% unique, customised by you.

Low qualities―from big to small,

Super Label Store

will be happy to make it all.

Image source: The Spruce Crafts
No sew fleece throw FAQ
We know a lot, but we don't know it all. So there are still several questions to ask when t comes to a DIY no sew blanket.
Let's take a look at some of them.
Will the fleece blanket ties come off in the washing machine?
It depends on the technique you used. With double knots or other good tying technique, there's no need to worry, as these methods are durable.
      2. What are the cut-off squares for? How do they prevent bunching?
By cutting the squares on the blanket's corners, you ensure that the corner fringe pieces don't get entangled. People made it up as the easiest and most efficient way to tie the slits without messing the project up. 
      3. How to wash a fleece blanket?
Do it on a delicate cycle with cool or warm water. 
      4. How to finish the edge of a single layer fleece blanket?
Move the tape as you work on each side. Then, cut off 6″ square from the fleece corner with scissors or a rotary cutter. Your blanket will lie flat, and it's enough to give it an excellent finish.
      5. Do you need to hem a fleece?
Luckily, fleece doesn't fray easily. So it's not necessary to neaten seams, but you can go for a regular or three-step zigzag stitch if you want to. The professional appearance you'll achieve by sewing the hem with two parallel lines of stitching.