Explore these collections of easy dress sewing patterns to make them at home with basic sewing skills.
The perfect dress is the one that makes you feel good. It's the one you're most comfortable in and looks great on your body shape. Sometimes, finding that perfect, comfortable dress in a store can be challenging. That problem can be resolved by sewing your own dress at home.
If you love to sew and want to make a unique dress pattern for yourself, then this article is for you.
Whether you want to wear a dress for a wedding, work, or party, we've got you covered with our collection of easy dress sewing patterns for women. These dresses are simple to make and will not take much time to complete.
Browse through our cute dress sewing patterns selection, and find one that suits your style and taste. From classic designs to trendy looks, we have everything you require to get started on your next project.
The best part? It doesn't matter if you've never sewn before—our easy dress sewing patterns are so simple anyone can make them!
Let's get started.
22 Stylish and Cute Dress Sewing Patterns for Women
Looking for the best dress to wear to a wedding? Or you want something different from the norm but still, look professional.
Then look no further than these cute dress sewing patterns that let you create beautiful dresses in 15 minutes or less. These dresses are designed to be simple, with just enough flare to stand out.
Image Source: This is Zun On Pexels
The best part is you'll learn how to make them yourself, and you can give them a store-bought, professional-looking touch by using,
Super Label Store offers high-quality, super customizable, and high-quality clothing labels in all styles and sizes to meet your unique needs.
Whether you are thinking of selling these handmade dresses on eBay or want to gift them to your BFF, these clothing labels will help the dresses look more professional. You can flaunt your sewing skills with them.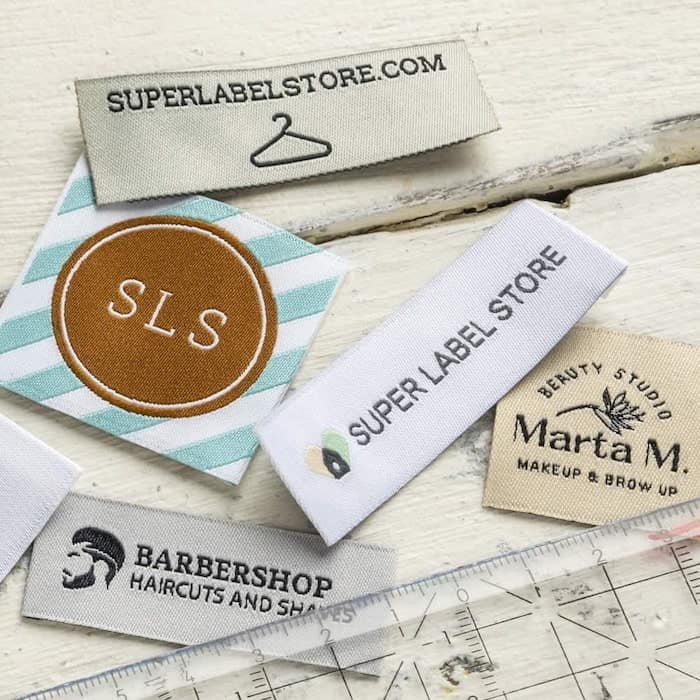 Check out these easy dress sewing patterns and use different types of woven labels to give them a professional look today!
Free High Slit Maxi Dress Pattern
This Free High Slit Maxi Dress sewing pattern is perfect for any occasion. You can wear it as an evening dress or pair it with a blazer for a regular workday.
Image Source: Topofstyle
The maxi dress pattern features a high slit at the front, which allows you to show off your legs without showing too much skin. It also features side pockets to keep your phone handy while you're in town.
This maxi dress can be customized by changing out different trims or adding a belt around your waistline for an added touch!
Shirt Dress Pattern
Are you looking for simple, cute dress sewing patterns with just a hint of vintage? This shirt dress sewing pattern is for you! It is a wardrobe staple for beginners and experts.
These shirt dress sewing patterns include detailed instructions for sewing the bodice, cutting out the pattern pieces, assembling the dress, and sewing the skirt.
You'll also get the best sewing tips and tricks on how to fine-tune your fit and embellish your dress with buttons, zippers, embroidery, or other embellishments.
Raglan Sleeve Dress Pattern
The Raglan sleeve dress sewing pattern is a classic design that is great for any occasion. You can wear this dress to work, school, or even a night out with friends. 
Image Source: All the little happy things
The raglan sleeves make this dress easy to move in and add an element of style to the piece. This dress is perfect for fall weather and keeps you warm while looking stylish.
These free sewing patterns are great for any beginner seamstress who wants to learn how to make different types of clothes but wants everything simple.
Japanese Twister Dress Pattern
This Japanese-style dress is perfect for any occasion, from a formal party to a casual lunch with friends. It is a simple yet elegant design that will make any woman feel beautiful.
The simple dress sewing pattern features a button-up front, long sleeves, and a full skirt that can be styled based on the occasion.
The pattern is available in sizes small to large, so you can make it for yourself or anyone else who might need a new dress.
Little Black Dress Pattern
This is a standard little black dress sewing pattern for women. It is a simple, classic style that will never go out of fashion.
Image Source: Dress Up Buttercup
Whether you're going out on the town or need a casual dress for running errands, these sewing patterns for beginners will give you the versatility and style you need. You can use different types of fabric as long as it's not too thick or heavy.
Garden Party Dress Pattern
You can't go wrong with this garden party dress sewing pattern by Honig Design. It's made from a light rayon fabric that feels soft against your skin and flows with the wind as you walk, so you'll feel like you're floating through life!
The bodice is fitted to accentuate your body shape, while the skirt flares out at the bottom to give you some room to move. The hemline is short and will hit just above your knees, allowing freedom of movement but still keeping things classy.
This dress sewing pattern for women comes in sizes XXS through XL, so it will fit everyone from teenagers to adults.
One-Sleeve Dress Pattern
This dress sewing pattern is simple, classy, and beautiful.
Image Source: Something Delightful 
The one-sleeve dress has an A-line shape that is perfect for flaunting your curves and accentuating your natural beauty.
The pattern comes in sizes small through extra large and is designed to fit,
| | | |
| --- | --- | --- |
| Bust | Waist | Hips |
| 32″ to 36." | 25″ to 30." | 35″ to 40." |
Off-The-Shoulder Dress Pattern
This off-the-shoulder dress sewing pattern is perfect for those days when you need to look put together but still want to feel like a kid at heart.
This pattern is perfect for beginners, who can use it as an opportunity to learn how to sew their own clothes! It's a classic dress and can be made in any color or print you like.
Perfect Beach Dress Pattern
Do you need a quick, easy, comfortable dress to throw on for the day? This beach dress sewing pattern is just what you need!
Image Source: The Loom
The dress has an A-line skirt that flares at the bottom, making walking around on the beach easy. The bodice is fitted across the bust, then flares into a boxy look to drape over your shoulders and arms. It's made with a light and airy fabric, so it will keep you cool in the heat of summer.
Paper Pieced Dress Pattern
This paper-pieced dress sewing pattern for women is a one-size-fits-all garment that will fit all body shapes and sizes.
It's easy to put together, and the materials are inexpensive.
To make it easy sewing patterns, you will need to use a sewing machine with an overlock function or serger. The pattern comes in three different sizes: small, medium, and large.
Pleated Vintage Style Dress Pattern
This vintage-style dress sewing pattern is perfect for women who want to look like they've stepped out of a time machine.
Image Source: Tip Top Sewing – Vintage Sewing Blog
It is cut into two pieces: the bodice, which is fitted at the waist, and the skirt, which has an A-line shape. The pleats on this dress are so flattering you will feel like you're wearing an old-school ball gown.
Lace Back Dress Pattern
This lace-back dress sewing pattern for women is a fantastic way to make a bold statement in your wardrobe. The fabric has a beautiful floral design that will brighten your day, and the lace trim adds an elegant touch.
Whether you want to wear it as a night-out or everyday work dress, this dress sewing pattern will help you create the perfect look for any occasion.
T-Shirt Dress Pattern
It's time to elevate your wardrobe with this t-shirt dress sewing pattern for women. This new pattern is designed to make it easy for you to learn to sew a t-shirt dress that's comfortable, flattering, and unique.
Image Source: Pumps and Pushups
It's also a quick and easy way to whip up an adorable new dress for the season with all the comfort of a t-shirt.
Brief Encounter Dress Pattern
The Brief Encounter Dress sewing pattern by So Sew Easy is a classic dress that has been updated with a modern twist.
It features a round neckline, a back keyhole opening, and short sleeves. The bodice is made from a pretty floral print with white stripes on top of it.
These very easy dress sewing patterns are also good for the environment because they use less material than many other patterns.
Denim Pinafore Dress Pattern
These days, it's all about denim. If you're not already wearing your favorite pair of jeans as a dress, now's the time to start.
Image Source: Charlie, Distracted
This pinafore dress pattern lets you do just that—and it's super easy to sew! These easy dress patterns to sew include instructions for both straight and curved hems, so it's perfect for beginners or more experienced sewists.
Thanks to the built-in elastic waistband and skirt hemline adjustments, the bodice is adjustable for any size and shape. There are also pockets in the front and back!
Rihanna Upcycled Maxi Dress Pattern
If you're looking to upcycle an old maxi dress, this pattern will help you make it into a new one.
This pattern is great for beginners because it's simple and easy to follow, but it also has more advanced options to tailor to your skill level.
Boho Chic Maxi Dress Pattern
Get the look of a boho-chic maxi dress with this easy-to-sew pattern.
Image Source: Ibizabohogirl.com
This maxi or wrap dress sewing pattern is perfect for any occasion, whether you're going to work or to your friend's wedding. It's made with lightweight fabric to be comfortable and breathable but stylish enough to wear all year long!
Tank Top Dress Pattern
This tank top dress sewing pattern for women is the perfect piece for any wardrobe. It's easy to sew and comes with a pattern that you can cut out, trace, and use to create your own custom-made tank top dress.
The best part about this tank top sewing pattern is that you don't have to measure yourself or worry about getting the right size. Just cut out one of the patterns provided and trace it around your body. You can now sew up your tank top dress in no time!
Femme Fatale Cocktail Dress
This femme fatale cocktail or prom dress sewing patterns are the ones you'll have to add to your closet ASAP. 
Image Source: Deadly is the Female
This dress has a form fitting bodice with an empire waist, giving it an ultra-feminine look that's perfect for any occasion. It is perfect for parties, weddings, and any other event you want to be the belle of.
You can use fabric that's as light or heavy as you like—one thing that matters is that it fits your body type and makes you feel comfortable! This dress pattern includes instructions on how to make a simple, sleeveless dress with an A-line skirt and fitted bodice.
Sheath Dress Sewing Pattern
Whether you're looking for a wedding dress or something more casual, this sheath dress sewing pattern is the perfect fit.
The fitted bodice and skirt make this dress flattering to all body types, while the simple design makes it easy to sew up in your favorite fabrics.
These easy-sew dress patterns for women include sizes small through large and D-cup bra sizes A-DD. No matter what your shape or size, there's a fit for you!
Babydoll Dress Pattern
This is a pattern for women's dresses. The style of the dress is different and unique, but at the same time, it is very comfortable to wear.
Image Source: The Dainty Details
The length of the dress will be short, reaching just below the knee or above the knee (depending on how you want it). It also provides tips on decorative sewing seams and other embellishments.
Loose-Gathered Ruffle Dress Pattern
This loose gathered ruffle dress sewing pattern for women is a classic, flowing style that will flatter your figure. It's great for beginners and more experienced sewers.
This dress sewing pattern comes with instructions for making the dress with or without sleeves and adding a belt to the waistline if desired. This pattern is available in sizes small through 4XL.
Easy Cotton Dress Sewing Pattern For Summer
Summer is here, and it's time to get out of your sewing machine and make yourself different types of dresses!
If you're looking for some inspiration for the perfect summer dress, look no further than these lists of easy cotton dress sewing pattern. The best part? They're all free!
Image Source: Taylor Marx On Pexels
From sleeveless to full-skirted dresses with an empire waistline and everything in between, we've got the perfect pattern for each season.
With these patterns, you can make summer dresses in any size or shape—so we've got you covered whether you want to go for something more traditional or try something new.
Tulip Dress Pattern
This tulip dress sewing pattern by Felted Fox is an amazing, lightweight dress that is perfect for casual days at the beach or on a picnic.
Image Source: Something Fashion
It's also perfect for a night out if you want something feminine yet comfortable. This is an intermediate-level easy cotton dress sewing pattern that requires some experience.
Before attempting this project, you will need to know how to sew darts and make button holes.
Trapeze Tank Dress Pattern
The Trapeze tank dress is the perfect summertime staple for any woman's wardrobe. It's a flattering silhouette that can be made in so many different styles and designs, whether you want to go casual or fancy.
The design is also versatile enough to make several different versions of this dress, from a casual sundress to a formal cocktail dress. It requires basic sewing skills and techniques, and you will be able to complete this project in no time at all!
Summer Swing Dress by Merrick's Art
Sew up a summery swing dress with this easy-sew dress no pattern!
Image Source: Brighter Darling
The summer Swing dress features an A-line silhouette and a tie waist with an optional self-belt, making it best for wearing on its own or layering over tights or leggings.
This summer dress pattern comes with six size options, from XS to 3XL, to help you find the perfect fit for your body shape.
Free Sundress Sewing Pattern
You can't go wrong with this breezy and easy sewing pattern. This dress is ideal for any occasion, whether you're going to the beach or just hanging out on your porch.
It can be made from any fabric you have lying around.
We recommend different types of cotton fabric or linen for a breezy feel, but if you're feeling more adventurous, try something like silk or chiffon. It's also a great beginner project, so if you've never sewn before, this is a great place to start!
Top 3 Benefits Of Using Easy-To-Sew Dress Patterns
With so many dress sewing patterns available, you might wonder why you should use them when you can buy a ready-made dress.
Image Source: Pinterest
Easy-to-sew dress patterns are an incredible resource for any woman who wants to learn how to sew. They can be handy for those who want to learn how to sew their own clothes but need help knowing where to start.
The benefits of using a dress sewing pattern include the following:
Saving Time
If you're looking for a particular style or type of dress, it could take hours or days to search for the right pattern.
Using a dress sewing pattern will save you time by allowing you to scan through all the available options and find what you want.
Image Source: Michael Burrows On Pexels
Having Choices
There are thousands of different styles and varieties available in easy-to-sew dress patterns, so you'll always have plenty of options for whatever style you choose.
Making Sure It Fits Right
Dress sewing patterns are made with women in mind, so they will take into account things like bust size, height, and weight when designing the pattern. This means that when your finished product comes out, it will fit in a perfect way!
Image Source: Cottonbro Studio On Pexels
Conclusion
Women's dresses are a great way to show off your style and make a statement. They can be casual, formal, or somewhere between—the endless possibilities!
We know how difficult it is to find free-quality sewing patterns, so we're glad we can make this happen for all of you!
The above-mentioned easy dress sewing patterns are the best way to get started with your sewing hobby.
No matter what you're looking for—a party dress, a prom dress, or a formal dress for work—we have something for you! These dress sewing patterns can be made from different materials such as cotton, wool, and linen, and you can choose any of these styles that you like best.
It is a great way to get a feel for what it is like to work with fabric and see what you can make with your own hands.
Now get out there and start sewing some dresses—we can't wait to see what amazing outfits you create!
Happy sewing!