Affordable and Reliable? Cheap Sewing Machines Aren't a Losing Game!
What comes to your mind when you hear about cheap sewing machines? 
Are you picturing a rickety appliance that's embarrassing to mention among other sewers? Or is it a modest, old-fashioned sewing machine that enables you to keep up with professionals without being flashy?
Regardless of your initial beliefs, we're here to challenge your thinking patterns. A low-cost sewing machine really doesn't have to be crappy! 
Aly from Sewing Machine Fun explains it thoroughly and adds several juicy examples in her article "The 10 Best Cheap Sewing Machines That Aren't Junk."
W
here to buy cheap sewing machines?
Would you fancy a sewing machine under 50 dollars but don't know where to start? 
First off, check your options with the helpful video "Best & Worst Sewing Machines $50 and Under in 2020" by BlueprintDIY to decide which one could work for you: 
Mini sewing machines and handheld sewing machines are affordable solutions if you're looking for a portable sewing device. However, while manufacturers often design mini sewing machines for children, handheld sewing machines aren't suitable for inexperienced minors.
If you have a little one who just discovered how to sew, we recommend you dig into the kids sewing machine genre. Let your youngster learn to sew with ease. Ensure they don't get discouraged right from the beginning of their potentially lifelong sewing passion! 
Find the best sewing machine for newcomers in our "sewing machine for beginners" overview.

Image source: Sewing Machine Club
According to Yale Tools, portable sewing machines have many inspiring advantages. 
Besides being cheaper than regular machines and consuming less energy,
they save space, so you'll have more liberty in coming up with new

sewing room ideas

,

they have many functions and can serve various purposes, whether it's 
Mind that regular sewing machines are rarely designed to perform multiple types of sewing crafts on one appliance. The more costly, the more specialized and less versatile they become.
they are easy to operate—there are usually

sewing supplies

with basic types of threads and needles available in one package, making stitch-related education smooth,

Image source: Crazy Little Projects
they have a fancy look—you can expect the design of most portable sewing machines to be modern and updated,

they are suitable for light work—these machines excel at making good flat stitches and doing light work such as paper crafts,

they are travel-friendly—you can carry portable sewing machines anywhere, be it to the sofa if you want to keep your hands busy while watching TV, or farther, for instance, to your parents' house;
Learn "The Truth About Handheld Sewing Machines and How To Use Them!" from our curious sewing guide on BlueprintDIY:
Yet, portable sewing machines have also several downsides:
the work is slow—when it comes to speed, portable machines pale in comparison to, for example, industrial sewing machines. In addition, this type of sewing machine isn't designed to produce numerous stitches.

they aren't suitable for thick fabrics—if you plan to work with denim, go for regular sewing machines. Relatively soft needles found in portable sewing machines aren't suitable for sewing thick fabrics. Read our guides concerning

sewing fabric

,

sewing leather

, and

leather sewing machine

.

they aren't suitable for sewing zippers—it's possible but difficult and frustrating,

they have no lighting features—these machines don't have a lighting system installed, but since you can move around with your appliance, it will be easy for you to create your sewing spot nearby the light source, 

you can't use them for long—don't utilize this type of machine for longer than four hours in a row; otherwise, you risk burning its motor. Also, since producers usually make them out of plastic, these machines can catch fire and even harm you. A 15-20 minute-long sewing is enough for one sitting. 
All in all, portable options are cheap sewing machines for occasional hobbyist sewing or learning. If you want more than that but still affordable, find another solution!

Image source: Blog.Treasurie
Where to find a sewing machine low price? If you're looking for a regular-sized low-cost sewing machine for adults, there are several possibilities:
head to

Amazon

, eBay, or Etsy, and enter keywords such as "cheap sewing machines sale,"

research blogs led by enthusiasts and professional sewers where authors share hacks on where to find satisfactory cheap sewing machines,

join social media groups for a constant inflow of information about your favorite subject; there're plenty of valuable tips for freaks of every kind, sewing addicts included!

ask fellow sewing enthusiasts in your region how to track down a source of bargain sewing machines where you live,

find companies who engage in advising on, facilitating, or trading cheap sewing machines—

Sewing Machines Plus

is one of them,

visit stores with used house appliances and flea markets,
Vintage sewing machines are not only typically cheaper, but they also have a unique charm that new machines don't have.

Image source: Pinterest
Otherwise, if you're on the other side of the chain and want to pass your old machine to a new owner, read "What to Do With an Old Sewing Machine" by Craftsy. So, keep it, sell, or donate your sewing machine with these clever hacks!
Also, don't be too fast with selling your favorite machine just because it doesn't work as smoothly as before. 
Sewing machine repair can bring excellent results. Also, remember about regular maintenance—discover "How to Properly Take Care of Your Sewing Machine" with Grandma Likes to Sew. 
If you own an industrial sewing machine, read "Simple Upgrades Make an Old Industrial Sewing Machine New Again" on Hack a Day to give it a new life. 

Image source: Hack A Day
Best cheap sewing machines
Let's make it clear: If you're a newbie, exploring the market of cheap sewing machines and finding one suited for you is the best option. 
After all, no one knows if you are a sewing freak for life or a month. 
On the other hand, Ana from Sewing Your Styles sees it differently: 
"If you're considering buying a cheap one because "you're not going to do a lot of sewing" or "what if you don't like sewing," don't. Because a cheap machine can take responsibility for the "reasons" and become a self-fulfilling prophecy."
Moreover, if you only need a backup machine, going for costly appliances doesn't make much sense. Your machine will stay in the closet most of the time, so what's the point of paying more than average?
Being reasonable and spending exactly as much as necessary for exactly as many goodies as you require is a smart move as well.  
Take our advice and ignore bells and whistles. They look so delicious only in ads!
Go for a quality machine with all the handy features but get it cheap. 
Here's how to do it and which models to consider.

Image source: Silver Bobbin
Find the best time to buy
Thanks to Silver Bobbin, we've prepared some helpful cues on "When Is The Best Time To Buy A Sewing Machine?".
Machinery and electronics don't go on sale often. Yet, there are 
large sales once or twice a year around major holidays; November and December around Black Friday and Christmas, and towards the end of summer;

spontaneous promotions on specific machines throughout the year, for example, when dealers clear out room for new inventory because a newer model machine is coming out; check

Walmart

regularly to be informed about such promotions (we write about it on

Walmart sewing machine

);
Be patient and do your sales-and-promotions-oriented research by constantly monitoring specific brands or models. 
      2. The importance of research
We cannot stress it enough: It's crucial to find a suitable machine for you, regardless of the current sales and fashions.
So do your research and do it well! Remember that you buy a new machine for a specific purpose. 
Look for models that fit your needs—don't get excited about extra features that don't serve you specifically. Be reasonable with your choices, and it's guaranteed you'll win this battle. All that glitters is not gold!
Investigate specific functions, sewing machine models, and brands to discover their real reputations.

Image source: Craftsy
      3. Visit exhibits and shows
To look at various sewing machine models in person before purchasing it, take part in 
crafts shows, 

festivals, and 

exhibits; 
Not only are sewing machine brands and dealers patiently waiting in booths for your questions, so you can finally ask about everything you ever wondered about, but there are often many delightful special deals and promotions during such events.
So, google exhibits and festivals dedicated to quilting and other crafts, register for the event and don't forget to stop by when it takes place in your city or nearby.
      4. Join mailing lists and subscriptions
Join mailing lists of several sewing machine brands—ideally, your favorite ones. 
We know that such emails often look and feel like spam. Yet, they're a sure way to be up to date with all the sales or deals of a particular dealer or brand. 
Companies like Michael's, Hobby Lobby, JoAnn (and others that sell sewing machines) have special promotions and offer coupons throughout the year. You don't want to miss this news!

Image source: Global Sew
      5. Scratch and dent sales
The term "scratch and dent sales" refers to the situation where a sewing machine has minor cosmetic damage that appeared during the shipping or while on display, which, however, doesn't interfere with its functionality. 
They can't sell such a machine for the full price because of this cosmetic disadvantage.
It's a great way to purchase a perfectly working sewing machine at a low price!
      6. Amazon Price Trackers
To avoid being overwhelmed by the number of sewing machine offers on Amazon, simply save sewing machines you're interested in on your Amazon Wishlist. 
Then, import your wishlist to Amazon price trackers such as, for example, CamelCamelCamel. 
These price trackers are designed to alert you when there's a lower price on a sewing machine from your wishlist.
As soon as you receive the notification, go online and grab the machine of your choice.
      7. Buy a used sewing machine
We already mentioned free markets and second-hand stores, but you can also buy a used sewing machine from dealers. Many dealers sell both new and used sewing machines.
Used sewing machines are cheaper and can work just as well as a new one. 

Image source: Silver Bobbin
Now, let's get down to business and find the top-recommended models of cheap sewing machines.
Speaking about recommendations, you'll like these different types of woven labels offered by Super Label Store. 
To embellish your self-made garment or accessory and make it look more professional, design your custom woven labels and hang tags. 
You can also create your care labels and make your clothing stand out with these adept maintenance instructions that your DIY items utterly deserve!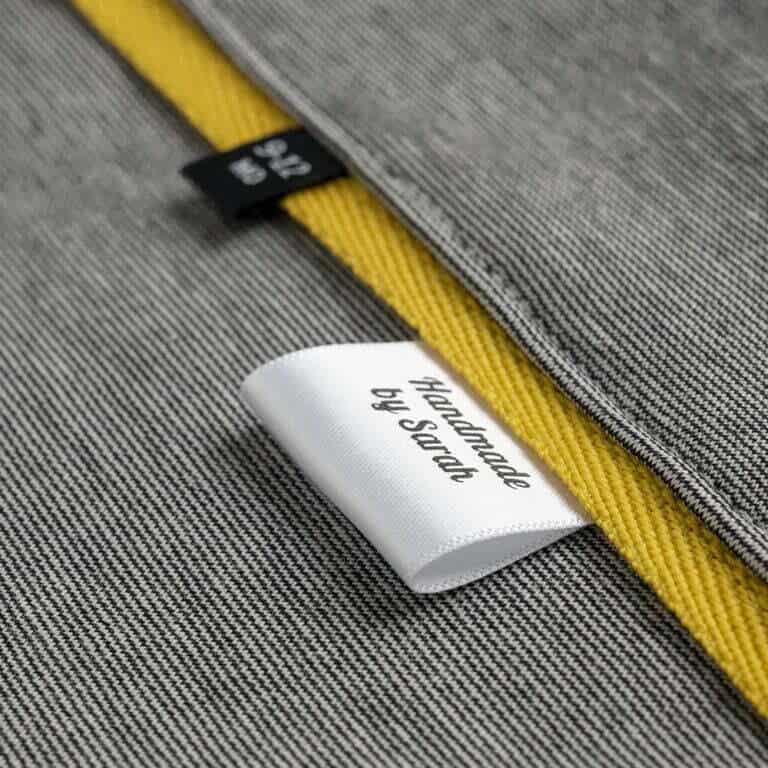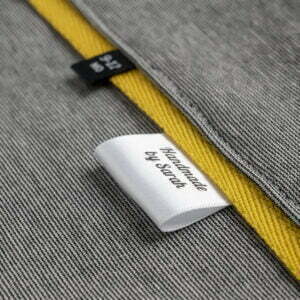 With the help of Sewing Your Style, we've listed the leading cheap sewing machines with value for price in various categories. The machines mentioned don't cost more than $200.
Category
Sewing machine model
Description

Best cheap embroidery machine

Brother PE535

Read about Brother sewing machine.

Known as an excellent little machine for newbies in the machine embroidery sector who don't want to make large designs yet. There are all handy essential functions, 80 designs uploaded (and six adjustable fonts, borders, and more). Getting started is easy. This machine comes with 

3.2" Sew Smart color LCD touchscreen display, 

built-in memory function to import more designs,

automatic needle threader (learn here

how to thread a sewing machine

),

embroidery designs up to 4″x4″;

Best cheap sewing machine for quilting

Brother XM2701

This model is excellent for beginners learning to sew and quilt. According to

Sewing Your Style

, "It sews like a dream," and this vague description speaks to our imagination like no other. Brother XM2701 offers a full range of features stuffed behind an adorable design. It's portable, has exciting options for quilting stitches (27 built-in stitches, including decorative and quilting stitches), and can go through thick materials. It has a sewing speed of up to 800 stitches per minute, jam-resistant drop-in top bobbin, one-step buttonhole, built-in free arm, six sewing feet, and more accessories;
Other winners in various categories by the Sewing Your Style:
Cheap computerized sewing machine—Brother CS5055PRW, 

Best cheap Janome sewing machine (explore

Janome sewing machine

)—Janome Pink Sorbet,

Best cheap small sewing machine—Varmax mini,

Best cheap basic sewing machine (a few more words about

Singer sewing machine

)—Singer | Start 1304,

Best cheap Brother sewing machine—Brother RLX3817,

Best cheap Singer sewing machine—Singer | Simple 3223;

Image source: Sewing Machine Fun
Singer 1304 Start is a popular machine for three groups of people (as noticed by Sewing Machine Fun):
kids who

learn to sew

,

beginners looking for an inexpensive and simple sewing machine to try out,

advanced sewists who need a portable machine for travels and who do only basic sewing and mending tasks with it;
For another list of top affordable sewing machine models, let's glance to Sew Care:
Sewing machine model
Description

Singer 1234 Portable Sewing Machine

"Singer produces a no-nonsense sturdy sewing machine by the name of Singer 1234 which focuses on completing simple tasks without making much fuss."

—claim Sew Care authors on the website.

Being able to sew through the most rigid fabrics, like jeans and leather, won't harm us either! Yet feeding multiple layers of fabric with this machine becomes an issue. In short, if you want to perform basic sewing everyday tasks with peace of mind, choose this inexpensive model.

Brother LX3817 Lightweight Sewing Machine

Mind the accessories: four sewing feet, a bright LED, magnetized bobbin drop-in system (customers had complaints about this part, and it's crucial to set the tensions correctly), and 17 built-in stitches;

Brother Jx2517 Lightweight Sewing Machine

This machine's cost isn't below $200, but it's still inexpensive and capable of undertaking almost all sewing assignments. We couldn't omit to mention this model given the abundance of favorable reviews for the ease of use for beginners and portability. 

Janome 41012 Portable Sewing 

This Janome model can perform almost all types of basic sewing tasks, so it's ideal for people on their learning curve. Heavy fabrics may make it drop down on its performance, but with the lighter fabric, all goes smoothly. According to

Sew Care

, it will make us "fall in love with the art of sewing."
Other cheap sewing machines listed in the same review are 
the eternal Singer 4411 Heavy Duty Sewing,

Brother Project Runway CS5055PRW Automatic Sewing Machine,

Janome 2212 Sewing Machine, and 

Juki HZL- 27Z Sewing Machine;
Check "The 10 Most Affordable Sewing Machines for 2022," on DIYs.